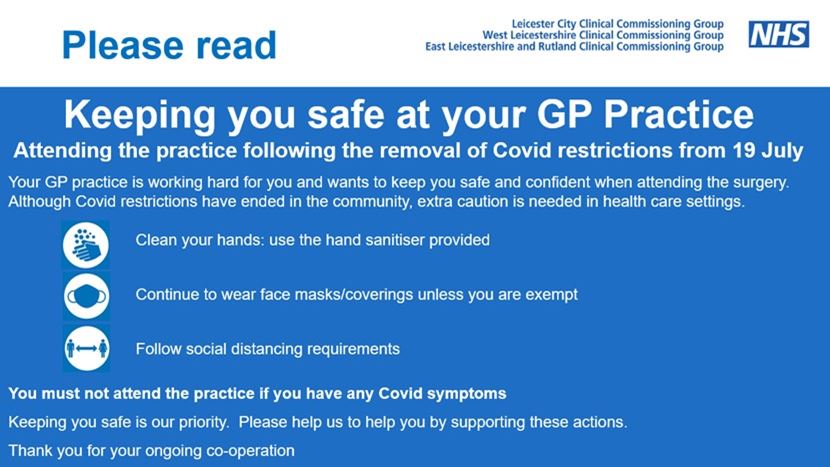 Our core opening hours are
Monday - Friday 8am - 6.30pm.
The practice operates a triage system for patients who need to speak to a clinician.
Please call at 8am to be added to our on the day triage list.
Where a medical problem cannot be dealt with remotely, you will be offered a face to face appointment.
As a GP training practice, we may ask if you are happy for a medical student to be present during your appointment, or if you can be seen by a medical student in the first instance and reviewed by a Doctor following the students clinical assessment.
If you have any symptoms of covid-19 or have tested positive and find that you require medical assistance, you should not attend the surgery. Please instead telephone us if you require medical advice whilst positive or symptomatic of covid -19.
If you have any symptoms of covid - 19 it is advised that you book a PCR test in the first instance at your earliest convenince - results are usually back within 24 hours, you may be asked to complete a PCR test prior to being seen at the surgery if you are symptomatic.
If you have any queries it would be helpful to the practice team if you could direct this to us by telephoning the surgery on
01509 274430, or emailing us to:
Alternatively you can use the ask us a question tab, located below on this page.
We regularly post updates on our facebook page which you can access towards the bottom of this page.
We must continue to ensure that we are adhering to social distancing guidance to protect vulnerable patients and to keep our staff as safe as possible.
Please always sanitise on entry and exit of the building and ensure that you wear a face mask when on site that covers your nose and mouth.
Thank you for your continued support.
Corona Virus Vaccine
TO BOOK A 1ST DOSE, 2ND DOSE OR BOOSTER DOSE OF COVID VACCINE OR TO CHECK ELIGIBILITY FOR THE COVID BOOSTER PLEASE CLINK THE LINK BELOW (HIGHLIGHTED IN BLUE)
If you have any queries please contact us by emailing: barrow.admin@nhs.net
This email account is monitored regularly and responses will be actioned on the same day where possible (Monday - Friday).
Take care and stay safe.
The Team at Barrow Health Centre
Welcome to the Barrow Health Centre Website
The Health Centre is centrally placed in the village of Barrow upon Soar. It has a large car park and is on the local bus route. A pharmacy is also located nearby.
The doctors and nurses here take pride in offering the highest standard of patient-centred healthcare. We run many clinics for chronic disease care and offer a wide variety of other medical services such as antenatal and postnatal care, minor surgery, childhood vaccinations and well-person check-ups.
The Health Centre is fully accessible to people in wheelchairs and other disabled people.
We are part of North and South Charnwood Federation details of which can be found on the following link http://www.charnwoodgpnetwork.co.uk
Keep up to date with the latest practice news
Newsletter
To receive future editions of the newsletter straight to your inbox sign up below.